White label apps have of late become a prime source of sampling. The process of generating a white label app not too long ago was just to demonstrate your abilities as a developer or an agency. But since the demand of white label apps rose, developers started sharpening their apps and making them more and more like the finished product.
As a result, all white label apps turned into finished products which are ready to be used. This changed the whole concept and more developers started to have ready-to-use white label apps which they used as both a demonstration of their capabilities and as ready apps that businesses could use straight away.
What are White Label Apps?
White label apps are ready-to-use apps that have all the features and functionalities. These apps can be of different categories. Earlier these apps were used to demonstrate features but off-late white label apps have become like template apps that are ready to use.
These apps can be completely customized based on the client's needs. Everything from the colors to fonts is customizable. Many times clients pick up these apps as ready products without wanting to add anything to it.
Benefits of White Label Apps
There are some very obvious benefits of developing and using white label apps. These days there are teams at agencies that develop white label apps for different categories. Here are some of the top benefits of having a white label app.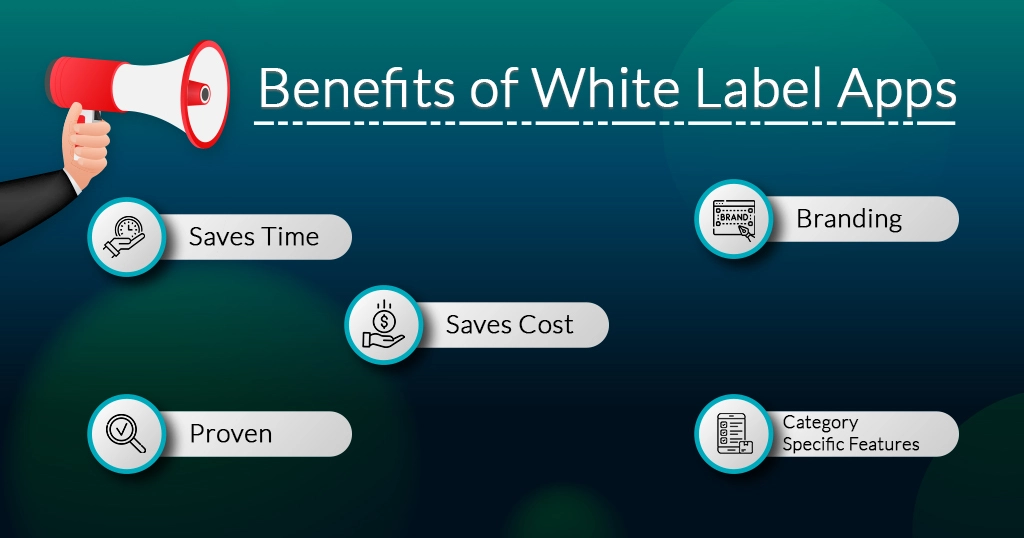 Saves Time
These apps are ready to use. All the features and functionalities are tested and work fine for user data. If a business is in a hurry to get an app, trying out a white label app may be an ideal solution as opposed to bootstrapping an app on all aspects.
Most advanced agencies have a lot of white label apps ready to deploy. All you have to do is drop in a query and they'll return with their samples.
Saves Cost
These apps are like standard templates. They have all the leading features and can be mirrored for mass creation. This saves a lot of development time. More these apps remain on the shelf, cheaper they become. Businesses may have to allocate a specific budget to get Mobile App Development done from an agency or a developer from the beginning. These costs are mounted on hourly basis and can be overwhelming due to delays.
Branding
These apps are completely customizable. Everything on these apps can be customized to match the branding of the clients. All the colors, fonts, designs and even placements of menus can be completely changed according to the styling and branding of the clients. This adds a lot of flexibility and convenience.
Category Specific Features
Agencies these days have recognized the rising needs of app solutions across different segments. Realizing how popular ecommerce has become, agencies have come up with category specific solutions. For instance, food delivery app development, if done from the scratch, can take a very long time and may cost high. A white label app that is on the same concept can act as an economic alternative and is ready to start functioning straight away.
Proven
These white label apps go through all the phases of a normal app like ideation, wireframing, designing, development, testing and deployment. There is no room of uncertainty about a particular feature or a group of features. Every feature and functionality is carefully tested for real life data usage. The only thing you might want to factor is the hosting costs for an app on a particular platform. For instance, iOS app development cost depends on whether or not a developer has enrolled in the Apple Developer Program or what the annual fees are for a developer to host an app on the App Store. Similarly for an application to be hosted on Play Store, the prices of hosting are the only thing you need to factor as everything else is already tested and proven on deployment basis.
There is a large market for the trading of these apps as well. A lot of agencies like to make smart purchases of white label apps and then resell them with a sizable profit margin.
How to Make Money with White Label Apps
There are ways by which a developer or an agency can monetize the popular concept of making and using white label apps. Apart from the direct sales, there are alternate ways to make money via white label apps as well.
Reselling
Agencies tame measured steps in today's times in terms of recruiting developers. Their priority is to make sales without development. So a lot of agencies are purchasing white label apps from individual developers or smaller agencies and selling them to clients who need it.
The reseller's market for white label apps is very broad since everyone wants a ready to use app but nobody has the time and convenience to search for the right one.
Direct Sales
Developers or agencies can put white label apps right on their websites and allow users to buy them. This makes your website an online shopping portal where the products are those white label apps you have created. You can further divide these apps in different categories and offer bundles.
Category Expansion
Most popular white label apps are for ecommerce or food delivery services. Popular concepts like online cab booking or streaming also have prototypes almost ready. Developers or agencies can expand these categories and venture more niches to leverage the demands.
For instance, a white label app that is based on a popular concept will fetch more interest but will not be sold for a higher price due to massive availability. An app that is a bit more niche and has less availability will have higher chances of being sold for a good price.
Maintenance
Many agencies indulge very little in development since the costs to hire developers is difficult to cover amidst the market uncertainties. Their prime focus is to offer maintenance and updates to white label apps. While the actual prices of these staple white label apps (mostly of popular categories) may not be too high, what can feed the revenue is offering regular version updates and timely and apt maintenance of these apps.
Branding
Branding is needed even on a readymade app. You still need to put your logos and manage the color pallets on your app. Agencies are offering great branding and customization solutions on these white label apps that match the needs of the businesses. By quick branding solutions and customization, developers can offer a ready product within no time.
Conclusion
White label apps are a great way for semi-beginners to start their agencies. While the actual bootstrapped projects take their own time to mature, agencies can keep their resources busy by making these white label apps on a mass level. Explore more ideas, categories and niches to create valuable apps that are ready to serve businesses. From the client's point of view, these apps serve a great purpose in getting the business started straight away. They also act as a trial plan in case the businesses want to test the market and how mobile apps are helping them before creating a bespoke app solution for their brand.